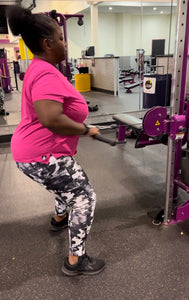 45 mins 15 min consult
Access to training app for additional training days 
Meal guide
Weekly check-ins
Customize workout plan
One week of  detox tea 
Personal Trainer
My trainer is the best I have ever had. She kept me focused and on point.
Top personal trainer highly recommended
I was literally in the best shape of my life when I trained with CGF . Boosted my confidence and everything
Fantastic Workouts
I really like Curly Gurl Fitness on all the aspects. My trainer is very knowledgeable, professional understand your needs, and motivate you to exceed your limits! She listens to your body goals and targets those areas
I am constantly learning new ways to improve my strength, flexibility, and stamina. I enjoy our workouts and look forward to the next challenge.